Shower panels vs tiles: it's a common question when designing new bathroom. Our guide explains the pros and cons of each
It is a conundrum commonly considered by those with bathroom design on their minds — shower panels vs tiles.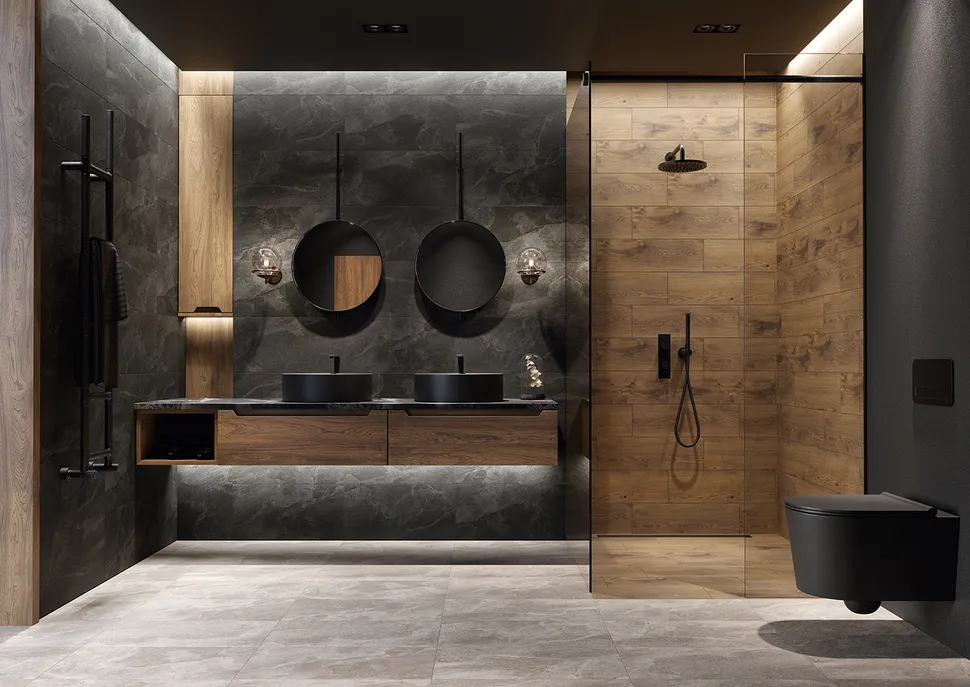 Both are methods of waterproofing the area around a shower and both have their pros and cons. This guide looks at the advantages and disadvantages of both shower panels and bathroom tiles in order to help you make an informed decision.
We cover costs, installation, maintenance requirements, aesthetics, durability and more so that you can feel confident that the final decision you make is the right one for you. 
What Are Shower Panels?
Before we address the burning issue of shower panels vs tiles, it is important to find out a bit more about the relatively new kid on the block in the world of bathroom wall coverings.
So, just what are shower panels? In short, they are large format waterproof sheets that are attached to your walls (or even over your existing tiles)  using an adhesive. The purpose of them, just as with more traditional tiles. is to protect the wall beneath from water ingress.  
Best Material for Shower Wall Panels
The best shower panels should be completely impervious to water and moisture. How effective a shower panel is comes partly down to the material is is made from, but also how well it is installed.
Shower panel materials generally fall into one of three categories:
Solid Core Boards: As the name suggests, this type of shower panel is constructed from a solid core material, commonly MDF or plywood, covered with a waterproof laminate. They can be attached straight to the wall or even over existing tiles. This type of shower panel is easy to install and fairly cost effective. They are also sturdy — but not all are created equal. At the cheaper end of the market some of those with a MDF core have been known to let in water resulting in blown panels — for this reason plywood is a safer bet. 
PVC Shower Panels: PVC boards are completely waterproof, affordable and easy to fit on a DIY basis. However, it often pays to spend a little more to ensure good quality — the very cheapest are thin can be flimsy and prone to damage. Reinforced PVC shower panels are a great option. 
Acrylic Shower Panels: Although these are more expensive option that PVC or solid core panels, they look brilliant (and are often used to mimic glass panels), come in a wide range of finishes and colours, can be cut in situ. Some solid core panels have an acrylic coating.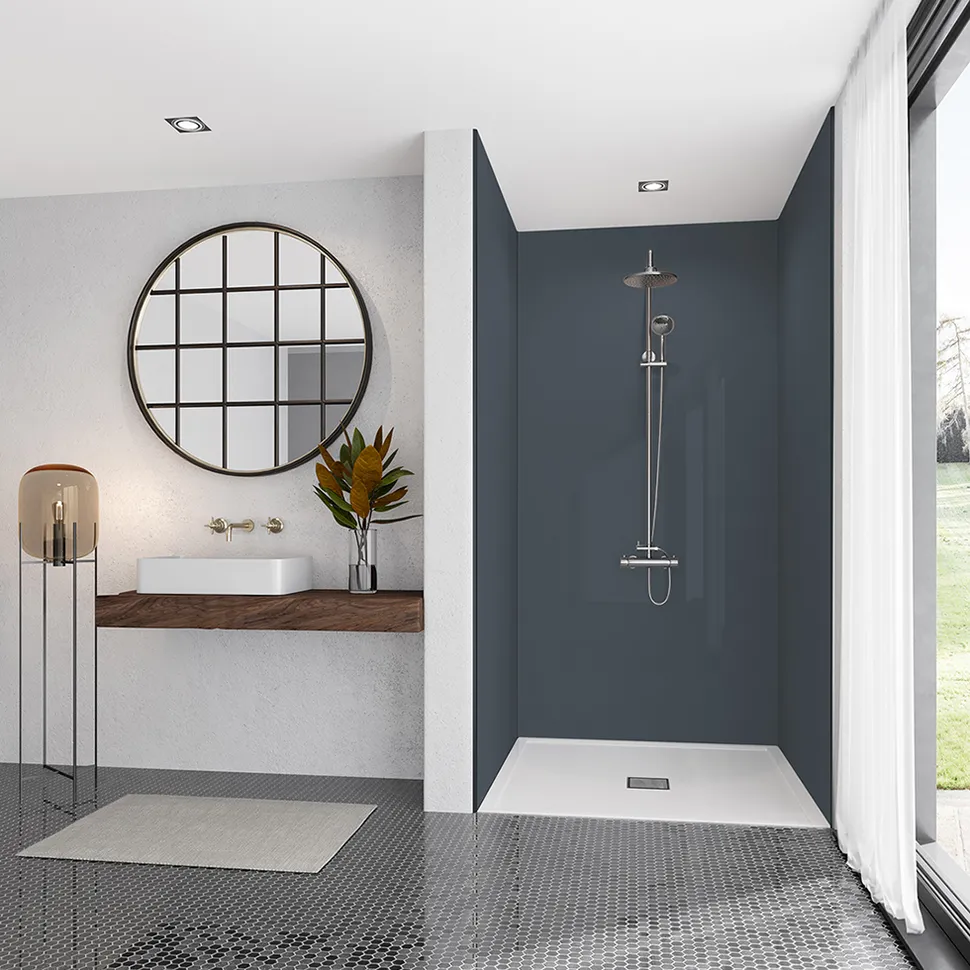 Which Costs More: Shower Panels vs Tiles?
This varies hugely depending on materials, the size of shower panels or tiles you are specifying and the quality of the product. Some shower panels will be templated off-site while others are supplied for DIY cutting to fit — which is obviously a cheaper option.
To give you an idea, a concrete-effect shower panel from Floors to Walls, measuring 2400mm X 1000mm costs £59.93 (25/m²), while a single Mermaid laminate shower panel, with a plywood core, measuring 585mm x 2440mm costs £104 (£74/m²) from Wickes. Bear in mind you will need to purchase trim and adhesive separately, although you won't need to buy grout and installation tends to be quicker than with tiles.
A pack of 44 basic white square ceramic tiles, each measuring 150mm x 150mm can be picked up for £5.94 from Wickes (£6/m²), although prices for ceramic tiles tend to come in between £20-£70/m² on average. 
Shower Panels vs Tiles: Which is Best?
There is no definite answer there — whether or not you choose shower panels or wall tiles will come down to your individual requirement. However, we can offer you the pros and cons of each option which should, ultimately, point you in the direction which product is best for you.
Pros and Cons
Tiles, whether you choose natural stone, ceramic or porcelain, are a tried and tested way of waterproofing bathroom walls. Ceramic lie at the lower end of the price scale, while natural stone lie at the top. Ceramic and porcelain are usually simpler to fit on a DIY basis than stone too, which can be heavy and requires proper sealing in order to stay looking good.
Whichever type of bathroom wall tile you opt for though, we lay down the advantages of tiles over shower panels.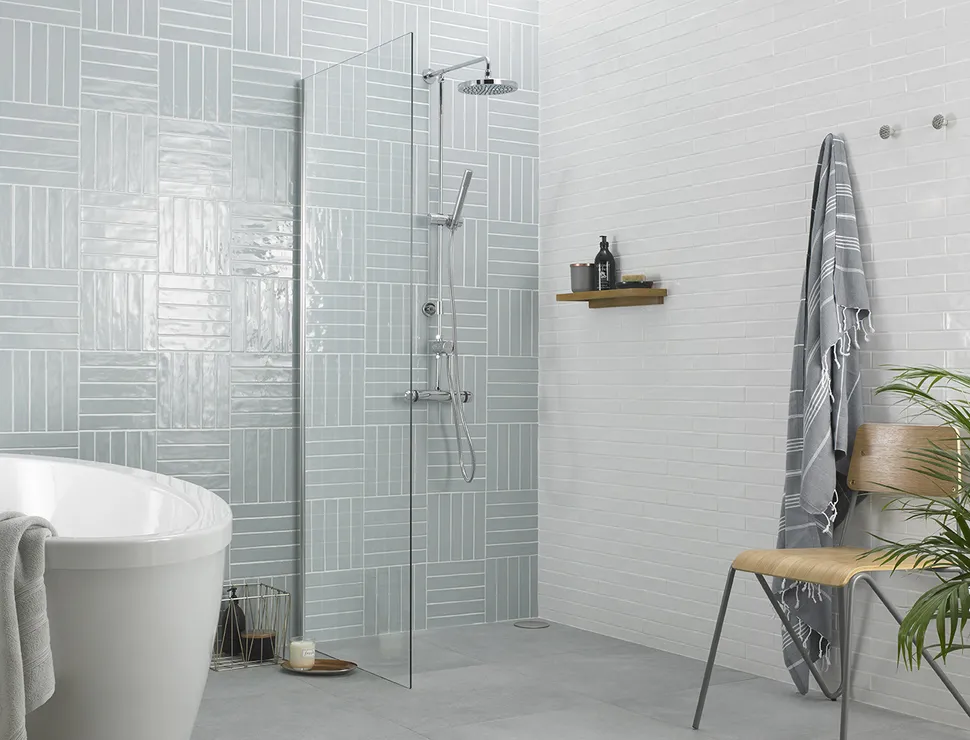 Pros of Tiles:
Ceramic and porcelain easy to fit on a DIY basis
Widely available
Huge range of colours, finishes, sizes and styles
Options to suit all budgets
Durable
More scope to get creative with combinations of colours, shapes, designs and laying patterns
Cons of Tiles:
Time-consuming grouting required
Installing can take some time depending on the size of the tiles
Natural stone is expensive — and heavy
Mould growth on grout can be an issue 
Grout lines can quickly discolour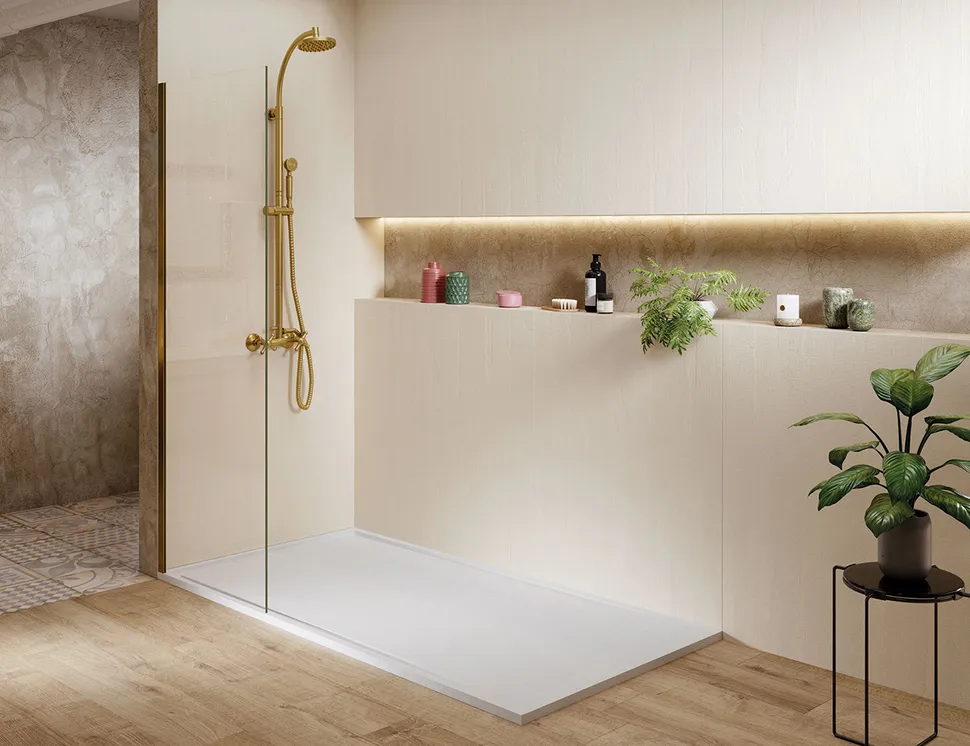 Pros of Shower Panels:
Easy to keep clean
No grout lines
Quick to cover large areas
Hygienic
Can be fitted over existing tiles
Perfect for a striking, contemporary finish
Cons of Shower Panels:
Quality varies hugely
MDF solid core panels can be prone to moisture ingress
Less scope for customised design patterns
Can be hard to achieve a waterproof seal with some flimsy versions
Source: https://www.homebuilding.co.uk/advice/shower-panels-vs-tiles